Author H.M.Ward,Demon Kissed series
*Book 5 - The 13th Prophecy*
*Book 6 - Assassin; Fall of The Golden Valefar*
Check out Amazon.com for all Ward's books or head over to her
website
..
DEMON KISSED
is a young adult paranormal romance novel, by American author
H.M. Ward
. It tells the story of Ivy Taylor, a seventeen year old girl, who is claimed by both the Martis (people chosen to protect humanity from evil), and the demon kissed Valefar (soulless servants of hell).

While learning to survive in this new reality, Ivy discovers that she is at the center of a prophecy that foretold of her unleashing unprecedented evil into the world. Ivy relies on her friends, and finds herself in a forbidden romance, while trying to save the world.
This is like coming "Full Circle" for me as H.M.Ward was my first Intervew/Review for Tammy's Two Cent's! Now she is offering up a free ebook copy of Demon Kissed to celebrate the release of Book 6, Assassin.
It was actually Mel that suggested this series to me last year and I am SO glad she did. You haven't experienced a love triangle until you've met Ivy, Collin and Eric. 1 Martis, 1 Valefar, 1 Mix = Fantabulous story!
*here is a copy of my review for Demon Kissed*
This book had me from the start... I love a book that grab's you straight away and won't let go! There is no several, tediously long and boring getting to know the character's and the story... you hit the ground running, much like Ivy, always trying to catch your breath. I love the descriptions of the emotions of the character's, the way it's written almost like you can feel what Ivy, Collin and Eric are feeling.
Is he a bad boy or isn't he... which boy, oh you will just have to read and see! There are a lot of twists and turns, almost to the point of whiplash but in the end, the writer pulls it off.
Simply put, this series is a must read guys! 5 quills. I warn you; download them all as you won't be able to stop once you've started.
And now a quick Q&A with Miss Ward, to catch up with her since my last interview.. contest details to follow.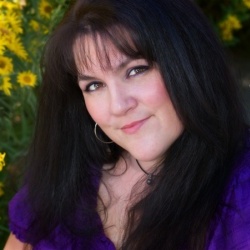 *What's new with you since our last interview?
Crazy stuff! I started writing grown up books under the pen name Ella Steele. I know! The first book is SCANDALOUS. I've been floored by the positive reception it's gotten. I mean, I didn't have a fan base for this. It was kind of just done on the fly. I wrote the entire book in six days. It was really something that came to me and I wanted to write it. SCANDALOUS has an unexpected couple, a minster and an artist, which is why it seems to be drawing so much attention. I didn't think anything of it at the time I wrote it. I've been a minster and a commissioned artist, so it seemed normal to me. Turns out, I'm not that normal. Ha ha! My mom was right! I am special! :o)
*Give us a sneak peak at book 5...
The 13th Prophecy is the darkest book in the Demon Kissed series. And it has the most dramatic cover. I mean - look at it! (When we shoot that, it was so much fun. There are outtakes on the facebook page if you wanna peek) The 13th Prophecy ties together Ivy's story line and seals her fate. It's action packed and there is a smoldering love scene in there with the boy of her dreams. Not gonna tell you if it's Eric or Collin. You'll have to read it to find out, but be prepared for some sexy stuff! And Eric. Our dear sweet crazy Eric just gets more interesting as the story progresses. Book 6 - Assassin: Fall of the Golden Valefar continues the Demon Kissed story where it ends in book 5. So book 5 is NOT the last book in the series. I know I said it was. I lied. Everyone kept asking what happens next. I planned on making a spin off series, but decided to continue the story instead. Like VALEFAR VOLUMES, book 6 shifts to Eric's POV. A fan asked if I'll ever switch back to Ivy's POV. My current answer is that I'll tell the story the best I can. So, that's a maybe. And you might be wondering if there is a happy ending to this series? The answer is yes. I think redemption is possible.
*Rumor has it you are working on a new series, care to tell us about it...
I've been getting ready for the release of Bane: Vampire Apocalypse #1. That series starts on June 15th, so really soon! It's a different take on vampires with a kick-ass heroine, Kahli, who's been on her own since she was a kid. She finds out that she's the last wild human in a world run by vamps. A sample chapter will be posted soon!
*What book are you currently reading...
The Exiled Queen
*Appearances, book signings you will be attending in the coming months?
I will be lurking online like I usually am. Signed books are available via the website. For a limited time, you can grab the last few copies of the 1st edition covers on my site. Several covers in the Demon Kissed series were updated. Assassin will be updated shortly. So if you want a 1st ed cover/ paperback go grab one before they are all gone
Thank you for inviting me to your super awesome blog!!!!
Heads up.. Ward is offering up a free ebook copy of Book 1 - Demon Kissed